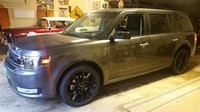 Rick Petersen 8/18/2017
Any one out there wanting to buy a new car, go see Luke Smith at Prostrollo Auto Mall in Madison SD. Luke is very helpful and does his best to make his customers feel like they are working with a friend, great guy.

Murry Smith 6/30/2017
I would like to give a HUGE thank you to Joe and Dan in Ford service for a job well done and going beyond! It doesn't surprise me with folks like these and the rest of the crew at Prostrollo Ford that you have loyal customers like my wife and I! Thank you so much for all you do!

Kelly 2/8/2017
We met with Karen to buy our Tahoe, and she was SO wonderful to work with! We never felt pressured, she answered all our questions (there were a lot of them), and even though we were in late on a Saturday, we never felt rushed. It was a great buying experience and Karen was very informative! We even met Allan (mgr) and a few others - the whole place was welcoming and felt like a solid team. Thanks!!